Tuesday, 30 November 2010 / 23 Dzulhijjah 1431
Webcam Monitoring Dengan ZoneMinder di Fedora 14
Langsung aja tanpa basa-basi…
# yum info zoneminder
Name		: zoneminder
Arch		: i686
Version		: 1.24.2
Release		: 5.fc14
Size		: 5.3 M
Repo		: fedora
Summary		: A camera monitoring and analysis tool
URL		: http://www.zoneminder.com/
License		: GPLv2+ and LGPLv2+ and MIT
Description	:

ZoneMinder is a set of applications which is intended to provide a complete

solution allowing you to capture, analyse, record and monitor any cameras you

have attached to a Linux based machine. It is designed to run on kernels which

support the Video For Linux (V4L) interface and has been tested with cameras

attached to BTTV cards, various USB cameras and IP network cameras. It is

designed to support as many cameras as you can attach to your computer without

too much degradation of performance. This package includes cambozola.jar.

Catatan: Sebelum melakukan instalasi, pastikan webcam Anda telah berfungsi dengan baik.

Instalasi ZoneMinder
# yum install zoneminder

Edit file /etc/httpd/conf.d/zoneminder.conf
Ubah menjadi:
Alias /zm "/usr/share/zoneminder/www"
<Directory "/usr/share/zoneminder/www">
Options -Indexes MultiViews FollowSymLinks
AllowOverride All
Order allow,deny
Allow from all
#Deny from all # DELETE THIS LINE
</Directory>
#ScriptAlias /cgi-bin/zm "/usr/libexec/zoneminder/cgi-bin"
<Directory "/usr/libexec/zoneminder/cgi-bin">
AllowOverride All
Options ExecCGI
Order allow,deny
Allow from all
</Directory>

Membuat symbolic-link aplikasi zm:
# cd /var/www/cgi-bin
# ln -sf /usr/libexec/zoneminder/cgi-bin zm
# cd /usr/share/zoneminder/www

buat database mysql untuk zoneminder:
# mysqladmin -u root -p create zm
Enter password:

import database zoneminder:
# mysql -u root -p zm < /usr/share/zoneminder/db/zm_create.sql

Konfigurasi ZoneMinder
# vi /etc/zm.conf

sesuaikan pada bagian ini:
# ZoneMinder database hostname or ip address
ZM_DB_HOST=localhost
# ZoneMinder database name
ZM_DB_NAME=zm
# ZoneMinder database user
ZM_DB_USER=root
# ZoneMinder database password
ZM_DB_PASS=mysqlrootpassword

restart webserver:
# /etc/init.d/httpd restart
Stopping httpd:				[  OK  ]
Starting httpd:				[  OK  ]

Pastikan webserver berjalan normal, kemudian coba akses ZoneMinder via web browser ke http://localhost/zm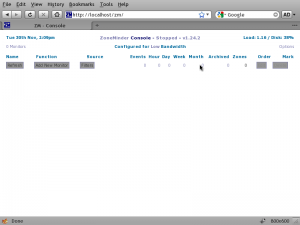 Pastikan web browser Anda menampilkan halaman seperti gambar diatas. Klik pada tombol Add New Monitor untuk menampilkan form seperti dibawah ini: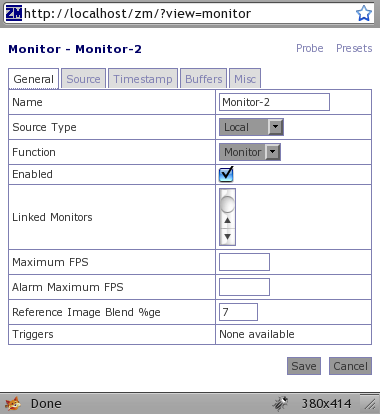 Sesuaikan isian Name, Source Type dan Function, kemudian klik Source pada tab diatasnya untuk menampilkan form berikut ini: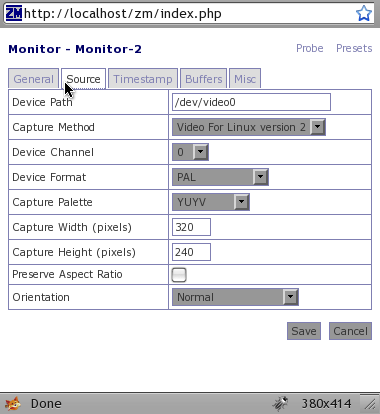 Sesuaikan setting diatas sesuai dengan konfigurasi webcam Anda. Abaikan dahulu setting pada tab yang lainnya, klik tombol Save. Pada homepage akan terlihat daftar device yang telah diset seperti dibawah ini: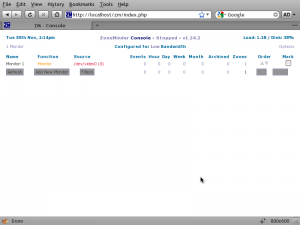 Sebelum melakukan monitoring, aktifkan terlebih dahulu service zoneminder dengan cara mengklik pada link Stopped.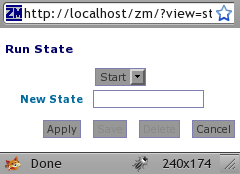 Service ini bisa pula diaktifkan via konsol:
# /etc/init.d/zoneminder start

Klik link nama device/monitor yang tadi dibuat dibawah kolom Name dari homepage zoneminder anda untuk menampilkan hasil monitoring webcam Anda seperti berikut ini: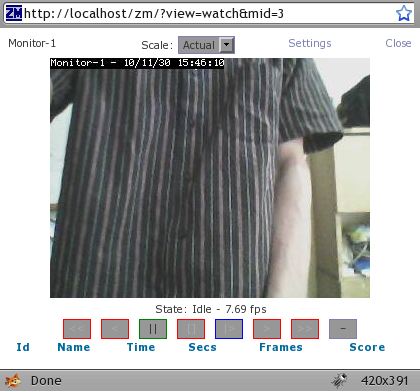 Tutorial singkat ini telah berhasil diujicoba dengan perangkat webcam internal di notebook Dell Inspiron 14 (N4030) dengan sistem operasi Linux Fedora 14.
Semoga bermanfaat, salam.
Incoming search terms:
zoneminder (33)
konfigurasi zoneminder (22)
cara install zoneminder (11)
zoneminder fedora (10)
instalasi zoneminder (8)
cara setting zoneminder (7)
tutorial zoneminder (7)
Setting Zoneminder (7)
zoneminder webcam (7)
webcam (6)