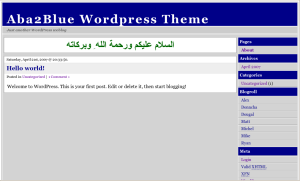 Aba2Simple 0.2 is released as an update of Aba2Simple 0.1 which is released a week ago. There are no differences between the old and this new one in look and feel. The best part about this version is modularized in design.
Features:
Modular
Widget ready
Fluid width
Valid XHTML 1.1
No images
Note:
This theme is tested only on WordPress 2.1.x
I'm not a designer and my English is too bad to make an explanation. The best way to know about this theme is download, install, and use it.
i'm learning english now…